Heffron Drive Announce 2014 Tour + Debut Album 'Happy Mistakes'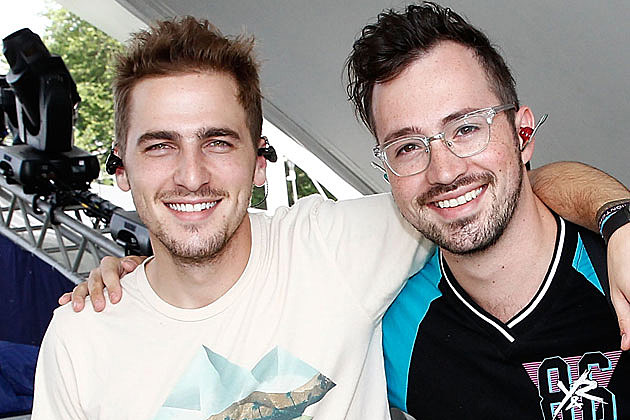 Big Time Rush star Kendall Schmidt and his music partner Dustin Belt — collectively known as Heffron Drive — announced their debut album 'Happy Mistakes' and an international tour to kick off the celebration. Drivers, Christmas has come early!
Kendall and Dustin gave us a glimpse of Heffron Drive's new music earlier this year with the release of their first single 'Parallel.' A full album is finally on its way, set for a release date of early September. (So soon!) 'Happy Mistakes' will feature a sound similar to 'Parallel,' a self-described mix of pop, rock and electro.
"'Happy Mistakes' is a passion project many years in the making," Kendall said in a press release. "We've worked really hard on our new album and are so thrilled to finally share our new music with our fans. While this is only the beginning, it's already been an incredible journey."
You can listen to the pop pair's new tunes by checking them out on their Happy Mistakes Tour at the dates listed below. (More dates coming soon!)
Heffron Drive 2014 Tour Dates
Saturday, Aug. 30 – Atlanta, GA – Variety Playhouse
Monday, Sept. 1 – Freehold, NJ – iPlay America
Wednesday, Sept. 3 – New York, NY – Irving Plaza
Friday, Sept. 5 – Boston, MA – Paradise Rock Club
Saturday, Sept. 6 – Rockville Centre, NY – Madison Theatre
Sunday, Sept. 7 – Philadelphia, PA – TLA
Thursday, Sept. 18 – Burlington, VT – Radioshow
Saturday, Sept. 27 – Las Vegas, NV – Desert Breeze Park
Saturday, Oct. 4 – Mexico City, MX – El Plaza Condesa
Watch Kendall Schmidt Reveal His Childhood Favorites
Subscribe to 97.1 KISS FM on

Source:
Heffron Drive Announce 2014 Tour + Debut Album 'Happy Mistakes'