Jennifer Aniston on 'Friends' DVD Cover Has the Internet in a Tizzy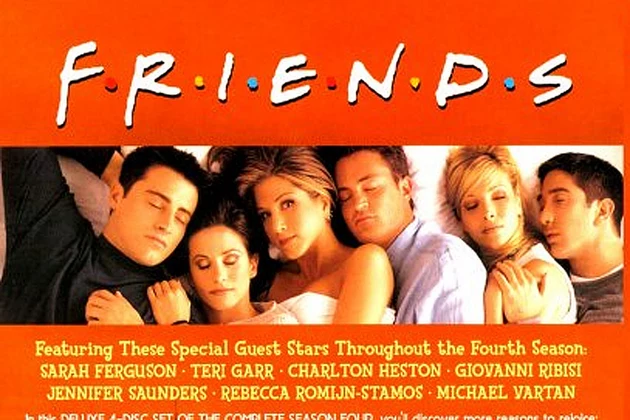 It's a question you had no idea needed answering.
Twitter user @thetedfox noticed Jennifer Aniston is the only cast member with his or her eyes open on the box for season four of Friends on DVD. Yes, that season came out on DVD nearly 15 years ago, but, like the JFK assassination and why Carrot Top continues to draw big crowds, he needs answers.
And (please read this in your best Chandler voice) could he be any more confused about what's going on?
Serious question:

Why is Rachel the only one ?

Theories needed. #FriendsGate pic.twitter.com/QOlQcDtaGL

— Ted Fox (@thetedfox) July 7, 2017
The hashtag #FriendsGate quickly caught on, with many people proffering their theories, proving the Twittersphere, with lots of free time in hand, is ready to solve the biggest pop culture mystery since how to get your hair to look like Rachel's. Quicker than Joey can seduce a woman, Twitter lit up with theories about what's going on in the photo.
Chandler is spooning her. The answer is obvious.

— Terry Bain (@terrybain) July 7, 2017
She alone knows the truth. She has seen beyond the veil, and knows that there is no way she should be able to afford that apartment

— Woodstock's dad (@Burghpunk) July 7, 2017
Central Perk is a lie, a lie told to white people that they will hang out in coffee shops forever.

— Woodstock's dad (@Burghpunk) July 7, 2017
She's the only one who knew life was gonna be that way,
that her job was a joke, she's broke, her love life D.O.A. #FriendsGate https://t.co/thpTgRIlDs

— Chris Artates (@ComputerChris2) July 7, 2017
they were dead the entire time any ways have a great weekend https://t.co/e47hcyan4P

— darth:™ (@darth) July 7, 2017
THEY WERE ON A BREAK

— michael️‍ (@CardinalBiggles) July 7, 2017
Amazing coincidence, the other 5 all blinked at exactly the same time

— Bob The Wonder (@Bobthe1der) July 7, 2017
Lobsters, man. Lobsters.

— Moo Point Podcast (@MooPodcast) July 7, 2017
The One Where Rachel Kills Everybody

— Dr. Jens Foell (@fMRI_guy) July 7, 2017
Rachel is woke. The whole show is an elaborate allegory of social justice, and also being told by Mrs. Whiskerson. @thetedfox #Friends pic.twitter.com/CZj1LGcdmo

— Morris Animal Refuge (@MorrisAnimal) July 7, 2017
Nostalgia Alert: 20 Must-See TV And Movie Cast Reunions:

Source:
Jennifer Aniston on 'Friends' DVD Cover Has the Internet in a Tizzy