Peaches Geldof Dead – Celebrities React to the Tragic News on Twitter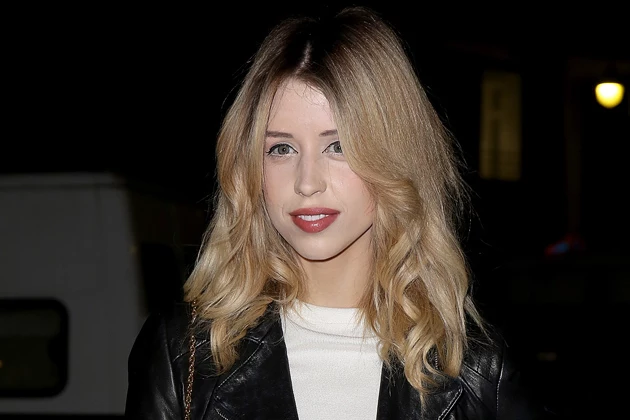 Celebrities all over the world are mourning the devastating loss of Peaches Geldof, who died today, April 7, at the young age of 25. Geldof, the daughter of musician Bob Geldof and Paula Yates, lost her own mother from a drug overdose when she was just 11 years old. In the wake of her "unexplained and sudden" death, stars have taken to Twitter to grieve for the beloved mother of two.
@lilyallen My thoughts are with Peaches' family at this awful time. I hope they get to grieve in peace. Peaches, rest in peace gorgeous girl

— Lily Allen (@lilyallen) April 7, 2014
Even if you think you've got it all figured out, some things still can't be explained or understood. Two beautiful children. RIP Peaches

— Ellie Goulding (@elliegoulding) April 7, 2014
Poor sweet Peaches Geldof. We spoke only a month ago and she looked like an angel. This is truly sad. Poor Bob! R.I.P

— Boy George (@BoyGeorge) April 7, 2014
So so sad about Peaches Geldof. Thoughts with all of her family x

— SAM SMITH (@samsmithworld) April 7, 2014
Devastated about @peaches_g. Sending condolences & respect to the Geldof family. It's unimaginable what they must be going through right now

— Sharon Osbourne (@MrsSOsbourne) April 7, 2014
Just heard about Peaches Geldof. So, so awful. Really sad. Thoughts going out to her family.

— tom fletcher (@tommcfly) April 7, 2014
Very sad to here about the sad loss of Peaches Geldof aged 25 years old such a shame thoughts and love to her whole family xxxxx

— Jamie Oliver (@jamieoliver) April 7, 2014
Shocked and saddened by the news of Peaches Geldof. My thoughts and prayers go out to her family.

— E L James (@E_L_James) April 7, 2014
Still, no memoriam can come close to the heartbreaking statement released by her father in the wake of his daughter's death.
"Peaches has died. We are beyond pain," he said (via Daily Mail). "She was the wildest, funniest, cleverest, wittiest and the most bonkers of all of us. Writing 'was' destroys me afresh. What a beautiful child. How is this possible that we will not see her again? How is that bearable?"
"We loved her and will cherish her forever," he continued. "How sad that sentence is. [Husband Thomas Cohen] and her sons Astala and Phaedra will always belong in our family, fractured so often, but never broken."
R.I.P., Peaches Geldof.

Source:
Peaches Geldof Dead – Celebrities React to the Tragic News on Twitter