Stars React to Birth of William + Kate's Royal Baby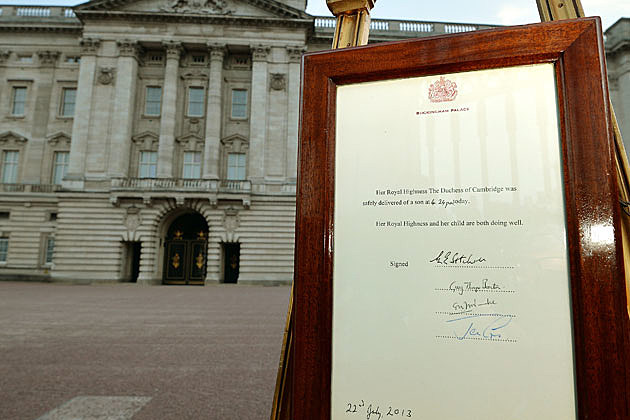 It's official! The Duchess of Cambridge Kate Middleton has given birth to a bouncing baby boy after about nine months of major anticipation. The birth was confirmed in a letter posted in front of Buckingham Palace that read,
Her Royal Highness The Duchess of Cambridge was safely delivered of a son at 4:24 PM today. Her Royal Highness and her child are both doing well.
Obviously, people all over the world were ecstatic at the eventual heir to the throne's birth…even pop stars! Celebs like Ellie Goulding, Little Mix and others took to Twitter to post their congratulations (and jokes!) for Will and Kate. Check out their kind words (and slight ribs) below:
Oh my gosh!!! It's a boy, A little Prince How amazing! 😀 #CONGRATULATIONS Perrie <3

— Little Mix (@LittleMixOffic) July 22, 2013
Imagine if they called it Tiesto #royalbaby

— lilyrosecooper (@lilyrosecooper) July 22, 2013
they named the baby Mr Bean?!

— Mark Hoppus (@markhoppus) July 22, 2013
so excited about the royal little prince! congrats to the whole royal family! being in the UK, the excitement is infectious!

— christina perri (@christinaperri) July 22, 2013
Congratulations to two of the loveliest people in the whole world on their baby boy. I am so happy for them.

— Ellie Goulding (@elliegoulding) July 22, 2013
Congrats once again to Will and Kate!

Source:
Stars React to Birth of William + Kate's Royal Baby