Taylor Swift Performs 'You're So Vain' Live With Carly Simon [Video, Pictures]
Subscribe to 97.1 KISS FM on
Taylor Swift got the chance to perform with one of her idols at Gillette Stadium this week when she took the stage with Carly Simon.
Swift invited Simon to her Foxborough, Mass. stop of the Red tour, and it's easy to see why they get along so well. They're both famous for cryptic songs about other famous musicians, and they're also both famous for loving the attention that comes with the public guessing games behind their lyrics.
T-Swizzle expressed her excitement at performing with her hero on Twitter, but it wasn't the first time she expressed her love for Simon. About two weeks prior, she posted about the former Mick Jagger lover as well:
Got to sing 'You're So Vain' with Carly Simon at Gillette Stadium tonight!!!!! Unreal. I could not possibly look up to her more.

— Taylor Swift (@taylorswift13) July 28, 2013
I feel like I definitely get along with people roughly 45% more if they know all the words to 'You're So Vain' by Carly Simon.

— Taylor Swift (@taylorswift13) July 11, 2013
The duo performed for a sold out crowd of 55,000, crooning Simon's signature song. And probably gossiping backstage about who their tracks are all about!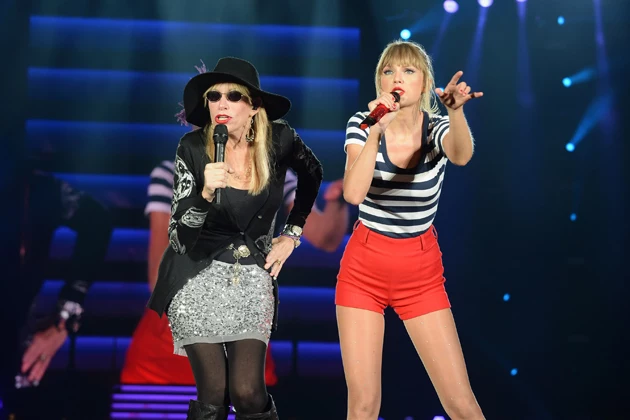 Source:
Taylor Swift Performs 'You're So Vain' Live With Carly Simon [Video, Pictures]