The 2017 MTV Video Music Awards: Best + Worst Moments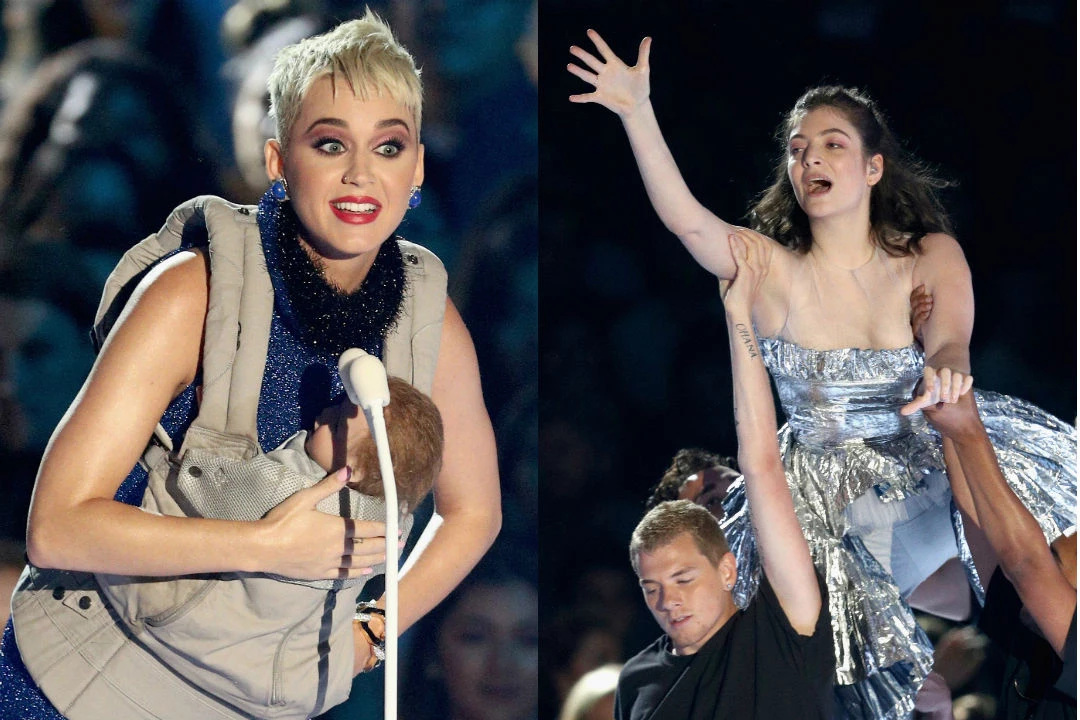 The 2017 MTV Video Music Awards, hosted by Katy Perry were, at times, as fiery as Kendrick Lamar's opening set. Elsewhere, they fizzled out.
Broadcast from Inglewood, California, the show included some high-flying sets (Perry, herself, descended onto the stage in a space suit), memorable speeches and, occasionally, events that should have been left in orbit. Check out the best and worst moments from the show below:
Kendrick Lamar's full performance at the #VMAs pic.twitter.com/WFCqMYeIDm

— (@RapCaptured) August 28, 2017
Best: Kendrick Lamar's introduction to the show was positively breathtaking. Enmeshed in rows of blinding light, Lamar's set included a man who was set on fire, masked warriors and stunts that were just as cutting as Lamar's breakneck verses.
⚡ @katyperry slayeddd that entrance pic.twitter.com/2NsuJumo6X

— MTV (@MTV) August 28, 2017
Worst: Katy Perry as the show's host. While Katy can put on a fun concert, she was about as natural as astro turf while at the VMAs helm, and made for some cringeworthy attempt at humor — particularly where her space travel gimmicks were concerned. "I might pee myself on stage, and it won't be a bit," she said before the show. It probably could have been.
Paris Jackson went off on Nazis while presenting award at the VMAs pic.twitter.com/MrY1oZTWm7

— gifdsports (@gifdsports) August 28, 2017
Me during Paris Jackson speech #VMAs pic.twitter.com/Y4nXjt6jjy

— Teci (@teci4u) August 28, 2017
Best: Paris Jackson's impassioned speech spearheaded a trend through which stars weren't afraid to get political. Jackson called out the alt-right specifically for their hatred and violence, and urged everyone watching to stay diligent in the fight for America's cornerstone of justice. Even a descendent of Robert E. Lee took to the stage and urged viewers to confront racism and white supremacy.
Learning some of these @lorde moves for my next party. Who wants to help carry me? #VMAs pic.twitter.com/NslxrOGm2L

— MTV (@MTV) August 28, 2017
Worst: PopCrush loves Lorde, but her voiceless performance of "Homemade Dynamite," a fantastic song, was a huge swing and a miss. Her dancing was manic and more uncomfortable than Thanksgiving dinner at the in-laws'. Waste of stage time.
Subscribe to 97.1 KISS FM on
Best: The premiere of Taylor Swift's "Look What You Made Me Do" video was self-indulgent, spilled over with vanity and forged Swift into the hero and victim of her own story. That all said, it was amazing — the video was stylish, dramatic and somehow made Swift look like she could keep a beat. The pop standard for 2017 has been set.
Cutting a live performance of an artist is rude. Cutting a tribute to someone recently deceased is an outrage. #chesterbennington #VMAs

— Mai Noone. (@TheWolvesHowl) August 28, 2017
MTV really just cut off Chester Bennington's tribute from his former band mates for a commercial. #VMAs pic.twitter.com/zJGuqOUOAe

— Lea (@_MissLeandra) August 28, 2017
Worst: It was wonderful that MTV dedicated a portion of its broadcast to the late Chester Bennington, who died of suicide earlier this summer. It was not so wonderful that a subsequent memorial performance delivered by Linkin Park was cut short by the network. Honestly, guys…
This Miley Cyrus performance is oddly spectacular. #VMAs pic.twitter.com/RJlQtwLx4V

— Josh Sánchez (@jnsanchez) August 28, 2017
Best: Miley Cyrus' "Younger Now" set was colorful, lively but totally devoid of the infamy that came with her 2013 VMAs gimmick. This was Miley harnessing her talent and making good music.
Yay! for @edsheeran winning #VMA Artist of the Year! Killin' it pic.twitter.com/DOTsSGwALv

— MTV (@MTV) August 28, 2017
Worst: Ed Sheeran won Artist of the Year over more deserving artists, and looked almost irritated to have received the distinction.
@Pink accepting the coveted #VMA Vanguard Award pic.twitter.com/uF7ASnHSco

— MTV (@MTV) August 28, 2017
Best: Pink's career-spanning performance as part of her Video Vanguard award acceptance was great, but her subsequent speech was better. She shared a story of her daughter feeling undesirable and titled the anecdote into a lesson of self-acceptance.
Worst: Taylor Swift and Katy Perry join forces for a performance — errr, rather, they don't. Though there were many rumors that said the bad blood would finally end, the two proved they'd remain at odds, lengthening what will go down as pop's most needless and enduring feud.
"I call on all of us with privilege and power to confront racism and white supremacy head-on" – Robert Lee IV #VMAs pic.twitter.com/ko4SM9VnaU

— MTV (@MTV) August 28, 2017
Best: Susan Bro, whose daughter Heather Heyer was killed protesting racism in Charlottesville, Virginia, introduced a new scholarship that will honor the fight against hatred. "Heather never marched alone," she said adding that people of every race and background stood in solidarity with Heather.
10 Surprising MTV VMAs Facts You Didn't Know:
Subscribe to 97.1 KISS FM on
2017 MTV VMAs: See the Red Carpet Looks

Source:
The 2017 MTV Video Music Awards: Best + Worst Moments